Druhá Smrt - Ukhulth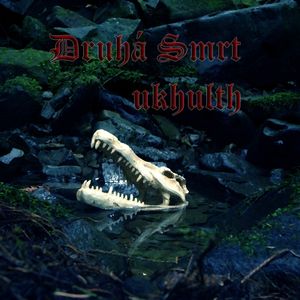 ++Sombre Soniks is very happy & excited to announce thee first CDr release++

This is thee sekond full length release from thee Czech Ritual Ambient projekt Druhá Smrt, komprising of five kompositions that further dokument their personal Workings into 'DIY Rituals influenced by the Lovecraftian archetypes and chaos magick.'

From thee DBL interview with Druhá Smrt:
"This ritual is not an attempt of evokation, but really is invokation. What is in ourselves, our deepest buried Id-Entity, which is not as simple as superficial Ego. What is different - otherness, and what we fear most... is our hidden self. Dark One, who dwells forgotten in the kingdom of the dead, in the realm of dreams and visions. If we want to achieve wholeness and walk to the path on permanent transformation (which is individuation), we must wake up what is dead in us. Only then we can achieve it all, together with what we have forgotten and lost. It is again an eschatonickal ritual (like Druhá Smrt muzik is) because it is about our Dark Self, risen from the alleged grave, which will lead us in the paths of the future - through the time of the end - and maybe out of time..."

This is a Pro CDr release in a high quality gatefold kard sleeve format with a silk, matte printed kover and an 8pp full kolour gloss printed and stapled booklet, limited to 150 kopies.
£9 + postage



Here is a streaming version of 'Foreshadow', which was Inkluded with thee pre-order of this release and is an exklusive komposition from Druhá Smrt.

This is to be konsidered a prequel to Ukhulth although it was kreated after thee main Work. In thee words of Druhá Smrt:
"This became a part of 'Ukhulth' after we realised that it brought us back to the same state as the aforementioned Ritual. It filled me with emotion to return to this with a feeling of a premonition: a Time Paradox".

As thee work has now been released this komposition is no longer available to d/load and kan only be streamed.