Poteau Mitan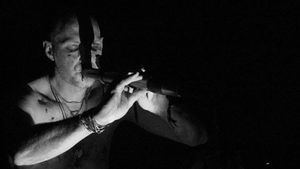 Poteau Mitan (The centre post that stands in the middle of the ceremonial enclosure for Voudoun rituals) is the new Music project by George M (tarot master and ritual drummer).

In 2008 he started the notorious sound project Kristus Kut, creating noisy soundscapes and maniacal performances inspired by voudoo rituals. During the years more and more acoustic shamanic instruments were used and slowly Kristus Kut became an act with two faces. One was the noisy wild maniacal noise act, the other was a more ritual ambient one.

At the same time, George M explored more and more the shamanic approach. To get more in touch with his drums and flute he took them with him on his bicycle rides into nature. This turned out to be the perfect way of learning the soul of the rhythm. It happened more then once that the energy of the gods entered his drumming. Rhythms were born naturely. Trance became a second nature.

This year he started to organise drum meditations at a magical farm in Breda, became the drummer of local full moon rituals and started with total acoustic healing concerts. With this knowledge and experience it became time to separate the ambient side of Kristus Kut from the noisy side. This is the moment Poteau Mitan was born.

Poteau Mitan uses mainly acoustic instruments (or only on most occasions) with a touch of Electronics like a loopstation or delay. With this instrumentation Poteau Mitan creates magical fragile soundscapes that take the listener on a journey into realms of the innerself.
Visuals
Poteau Mitan Live At The Werkplaats 19/12/2015